Ready, Steady, Paint! Local Wexford school students create their vision for a sustainable future with new mural
Students from 6th Class at St Mary's National School, Ballygarrett, Wexford, have created a Green Energy mural for their playground with the help of artists from the Walls Project. The mural is the prize for the winning class of a Green Energy Art Competition organised by STEAM Education and supported by renewable energy companies DP Energy and Iberdrola as part of their community engagement for the Shelmalere Offshore Wind Farm project.
The competition was the culmination of STEAM Education, DP Energy and Iberdrola's partnership on a Green Energy and Climate Action Education Programme, which saw over 400 students along the east coast in the vicinity of the proposed Shelmalere Offshore Wind Farm learn about climate change and engineering.  Participating pupils were asked to create their vision of a "seascape of the future" with a focus on renewable energy. The winner received a school mural inspired by their entry and a €50 One4all voucher.
The Green Energy & Climate Action Education Programmes has engaged 4th to 6th class students in approximately 20 local schools along the South Coast and East Coast with some of the most pressing issues facing the world today. Through a range of participatory activities and creative and scientific processes, the children are supported to understand the key issues about the Climate Crisis and encouraged to engage in positive climate action in their schools, homes and wider communities.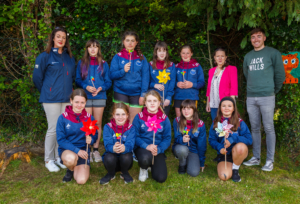 The Walls Project, creators of the Waterford Walls initiative, were commissioned to create the mural inspired by Kate's entry. Artists Aisling Corcoran and Fiona Brady began the day with a Street Art Skills Workshop, teaching the 6th class students how to use spray paints, practicing with stencils and paper before taking their talents outside to their playground wall.
A second mural will be painted in South Abbey National School, Youghal, Co. Cork in the coming weeks, inspired by South coast winner Vito Beganovic's entry.
The Walls Project creates and delivers large- and small-scale public art projects which transform and regenerate urban and rural spaces and connect communities through art. Bloom | The Art Project was founded by Aisling Corcoran and Frances Brady after discovering their shared vision to bring joy and happiness to people and communities through art.
Alice D'Arcy, Managing Director of STEAM Education said "the standard of the entries we received was extremely high, with some fantastic ideas for the future of renewable energy on display as well as very impressive artistic talent. We selected Kate Smith from St Mary's Ballygarrett as our East Coast winner as her entry captured perfectly both the power of wind energy and the importance of biodiversity, key aspects of our Climate Action programme."
DP Energy Community Liaison Officer Lisa Enright said that "it has been fantastic to have the opportunity to support education programmes that get children interested in vital areas like sustainability and green energy. Creative initiatives like this one are so important to get kids imagining what a sustainable future could look like and how they can be a part of it." 
https://shelmalereoffshorewindfarm.com/wp-content/uploads/2022/06/2B8A7457-scaled.jpg
1639
2560
Kimberley
https://shelmalereoffshorewindfarm.com/wp-content/uploads/2021/06/dp-energy-and-iberdrola-logos.png
Kimberley
2022-06-14 14:51:58
2022-06-14 14:52:06
Ready, Steady, Paint! Local Wexford school students create their vision for a sustainable future with new mural